Traffic and road conditions
Please drive carefully in the roadwork areas. Drivers are kindly asked to adjust the speed to the driving conditions and to keep the safety distance. A1 ZAGREB-SPLIT-PLOČE -traffic is dense on the A1 motorway between the Lučko and Otočac junctions in directions Dubrovnik. There are a lot of cyclists, moped riders and motorcyclists on the roads. We kindly ask drivers to drive carefully, keep to the speed limit and be considerate to other road users. There is a traffic ban on freight vehicles heavier than 7,5 tonnes in the Croatian Littoral on Saturdays from 4 a.m. till 2 p.m. and on Sundays from noon till 11 p.m. More information: https://www.hak.hr/info/korisne-informacije/zabrane-za-teretna-vozila/.
Border crossings
Due to roadworks, the Goričan border crossing is closed until the 24th of July at 8 am. Traffic is redirected towards the Goričan II border crossing. The Dvor and Vitaljina border crossings are open only to passenger and car traffic. At the Gunja border crossing there is a traffic ban on cars and freight vehicles. From 5th of May at the border crossing Metković there is a trafiic ban for tourist busses. Due to traffic bans on freight vehicles in Slovenia long delays should be expected in freight traffic at Bregana/Obrežje and Macelj/Gruškovje border crossings starting 1 June.
Ferry traffic
All ferries are operating according to schedule. From June 15 to September 15, a catamaran line will be operating between Rijeka, the Isles of Krk (Krk), Rab (Lopar) and Pag (Novalja) and Zadar. Departure from Rijeka: every day at 8.15. Return from Zadar: every day at 16.15. The catamaran in operation: Melita, total capacity: 180 passengers. https://gv-zadar.hr/brod/motorni-brod-melita/
Traffic restrictions for lorries
Traffic events on map
Traffic events are geolocated and can be seen on interactive map.
Clicking on image or url will open map with events in external browser: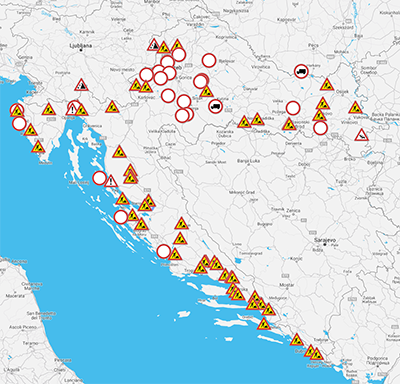 Traffic events on map
Traffic events are geolocated and can be seen on interactive map.
Clicking on image or url will open map with events in external browser: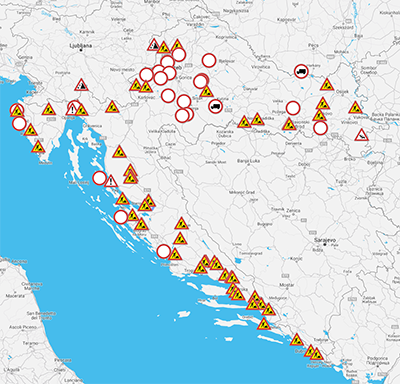 Traffic events on map
Traffic events are geolocated and can be seen on interactive map.
Clicking on image or url will open map with events in external browser: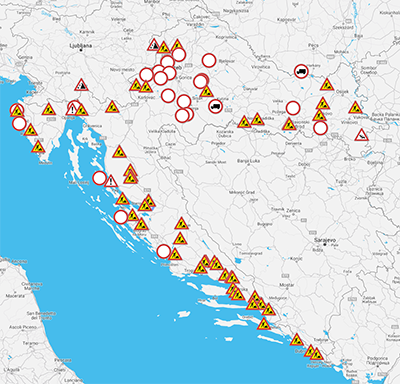 See Traffic flow and road conditions as well as Roadworks!
Useful telephone numbers
Roadside assistance service: + 385 1 987, +385 1 4693 700 Traffic conditions: +385 1 464 0800
Traffic forecast for tomorrow
TRAFFIC FORECAST FOR JULY 21, 2019 Dense traffic is expected on the main roads in the direction coast and interior, especially on the: -A1 Zagreb-Split-Ploče motorway, -A6 Rijeka-Zagreb motorway, -A3 Bregana-Lipovac motorway, -Zagreb (A3) and Rijeka (A7) bypasses, -Istrian motorway towards the border crossings Kaštel and Plovanija -on the DC1 state road and the DC8 Adriatic highway, -access roads to major tourist destinations, -and in some ferry ports. Due to an increase in traffic volume, vehicles will be moving in queues with occasional delays on the DC8 Adriatic highway towards Zadar, Trogir, Split, Šibenik, Stobreč, Omiš, Makarska and Dubrovnik. Roadwork, maintanance work and mowing will be in progress on some sections of motorways and other roads. Please be patient, follow the temporary traffic regulation and keep to the speed limit. Due to an increase in traffic volume, some ferries may not run according to schedule. Dense passenger traffic is expected at most border crossings with Slovenia and Bosnia and Herzegovina, especially at Kaštel, Plovanija, Požane, Rupa, Pasjak, Bregana, Macelj, Maljevac, Slavonski Brod, Stara Gradiška, Županja, Bajakovo and Karasovići.  TRAFFIC FORECAST FOR THE WEEKEND 19
- 21 JULY 2019 This weekend traffic will be heavy from Friday, 19 July until Sunday, 19 July, with the highest traffic volume expected on Saturday, 20 July. On Saturday, most delays are expected: -on the Zagreb A3 bypass from Jankomir and Buzin in the direction of the Lučko toll station, especially in the morning, -on the A1 and A6 motorways between the Lučko toll station and the Bosiljevo II junction in both directions, -on the motorways in Istria (towards the Kaštel and Plovanija border crossings) -at the border crossings with Slovenia (Macelj), Serbia (Bajakovo), Bosnia and Herzegovina (Stara Gradiška, Slavonski Brod, Maljevac and Metković) and Montenegro (Karasovići), -in ferry ports from which ferries set off to the islands of Cres, Rab and Pag and in the Zadar and Split ferry ports. TRAFFIC BANS ON FREIGHT VEHICLES WITH THE MAXIMUM PERMISSIBLE WEIGHT OVER 7.5 TONNES: -Saturday, 13 July from 4 a.m. until 2 p.m -Sunday, 14 July from 12 until 11 p.m. This pertains to important state roads: DC8 (the Adriatic road), DC9 (Metković-Opuzen), DC21 (Kaštel-Kanfanar), DC23 (Žuta Lokva-Senj) etc., so there should be no difficulties in the traffic flow on these roads. The traffic ban does not pertain to motorways or the DC1 Lika state road. Tips from the Croatian Automobile Club: You can check the current road conditions online on www.hak.hr , in our app (Croatia Traffic Info) or at + 385 1 46 40 800; for roadside assistance call: + 385 1 987. Have a pleasant journey!